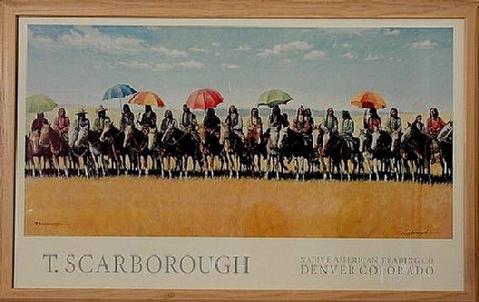 The Greeting By Tom Scarborough, $35.00 unframed includes shipping. Fine Art Poster from an orginal oil painting.
This poster depicts 22 Arapaho and Shoshone Indians lined up on horseback
as they waited on Wyoming's Wind River Reservation for a visit in the 1880's
with President Chester Arthur.

The Indians are shown as they appeared, dressed in their finery, including a
variety of white men's hats and garments. Some holding parasols.

Influenced by a black and white photograph viewed at the Colorado History
Museum, Tom Scarborough created this piece as an original oil. In actuality,
the parasols acquired at the trading post were just as colorful as depicted in
Tom's original work.

"These Indians embraced a lot of our culture. They borrowed from the White
man whatever they fancied or found useful," Tom observed. This
understanding has led Scarborough into painting rather offbeat but
historically accurate scenes.